The weather is breaking again in the Northeast and homeowners can finally emerge from the cold darkness of winter and embrace the rebirth of spring. During that winter slumber you may have been dreaming of some backyard shed ideas to implement and take advantage of during the warm weather.
If you're looking to fine tune, spruce up, change or add a new design to create an outdoor oasis, then Rick's Sheds can help you out with any additions or changes you might want to undertake.
Nowadays, sheds are not just used for storage but all kinds of different uses. Here are a backyard shed ideas in case you want to shake up the neighborhood a bit and give another role to your shed other than just storing a lawnmower and rake.
Potting and Gardening Sheds
If you have a green thumb, then various kinds of plants can have a dramatic effect on your landscape and mood whether they're for aesthetics, shade or landscape purposes. Having a place to do all the potting, soiling and storage of the tools will be convenient. What's more, you don't have to worry about dragging dirt in or mucking the place up since a gardening shed can be easily cleaned. Gardening sheds can come in all shapes and sizes and can be custom built or delivered onsite.
Artists Shed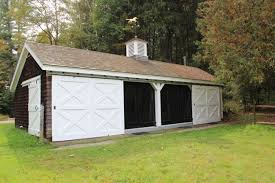 Creative and artistic types need an inspiring place to create and think about their work and creations. Whether it's painting, pottery, glass blowing or jewelry making having an outdoor space that doubles as a studio or creation space can have its advantages. If you've ever done any of the above activities then you know how messy each can be.
Keeping it separate from the house and having a go to creation space might just foster the next Van Gogh or Georgia O'keeffe.
Home Office Shed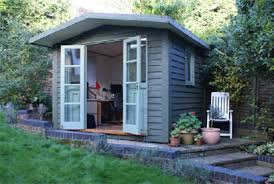 Tired of working from your kitchen table or a distracting room in the house. Commuting to your backyard is the new norm for some people. They can roll out of bed, walk a few yards outside and be in a whole new corporate environment. The great thing is, a shed will provide endless ideas and possibilities on how to decorate and inspire you. As long you have the basics like power and an internet connection, you can run a global business from your backyard. These home office sheds can bought and delivered onsite so that you can decorate it yourself or you can have Rick's built you a custom home office shed. The only thing we suggest is that you might want to fully insulate your home office shed if you live in a colder environment - after all, you might be spending a lot of time in that space.
Concession Stands - Announcer Booths
Springtime also means that youth sports seasons begin, whether that be soccer, baseball, track & field or lacrosse. Though a concession stand may not be going in your backyard (unless maybe you built a wiffle ball field) your kids sports or youth organization may need a new or additional concession stand or announcers booth. Whether it's a portable, permanent, prebuilt or a custom stand, Rick's has options. Check out the video below to see what we built for our local little league team.
Pool Houses and Cabanas
If you're lucky enough to have a swimming pool to enjoy in the summer time then having a poolside cabana, bar or pool house only completes the backyard swimhole. What better place to spend a weekend or evening after a hard day's work. Not only are the pool houses and cabanas affordable and convenient for storing pool supplies but they offer a respite from the sun and as well as offering a place to change. At Rick's Sheds, we've installed many sheds that double as a pool house or cabana and we love it when customers send in photos of what they've done to it after installation. We've even had one customer cut an entire side of a wall out in which in now serves as an inside-outside bar. Get those margarita's ready, you've got company coming over.
Tiny Houses and Cabins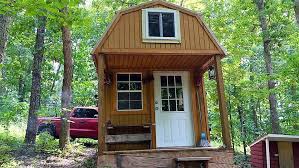 The tiny house revolution has swept the nation. Sure, they may be small but it speaks volumes about your lifestyle. A pre-built shed can certainly be transformed into a tiny house or you could custom design one and bring us the plans. Tiny houses offer many advantages over a traditional house or mcmansion so don't let the name full you, the interiors are quite roomy and the space can modified to meet your liking without breaking the bank.
Tack Rooms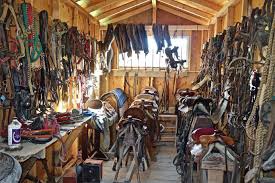 If you have a horse or own a horse farm with multiple equines then it's certain you may need a feed storage or tack room to keep your saddle and riding gear. The great thing about buying a prebuilt shed to use as a tack room is that it can be conveniently delivered on premises to pretty much any spot you need it. The other advantage is having that dry, safe place to store perishable goods and valuable equipment.
If you are looking for any type of sheds above then you can check out our selection of different options here. If you cannot find what you need then contact us or come visit us and we'll be happy to work with you on your custom design.