Sheds come in many various design styles and sizes, so when trying to select a shed for your backyard there are several questions you can ask. You can use this list to start your research and contact us at Rick's Sheds if you have any questions.
Dimensions
You can order any pre-built shed and have it delivered right to your home. Some of the sizes we offer range from 6x8, 8x8, 8x12, 10x12, 10x14, 10x16, 14x32, 12x16. You may also consider the style of the shed and the space as well. A high wall shed may not be the choice when a cabin or cabana may fit in the space better. Of course Rick's Sheds can build custom sheds on-site in case any of the pre-built sheds don't meet your size size or style requirements.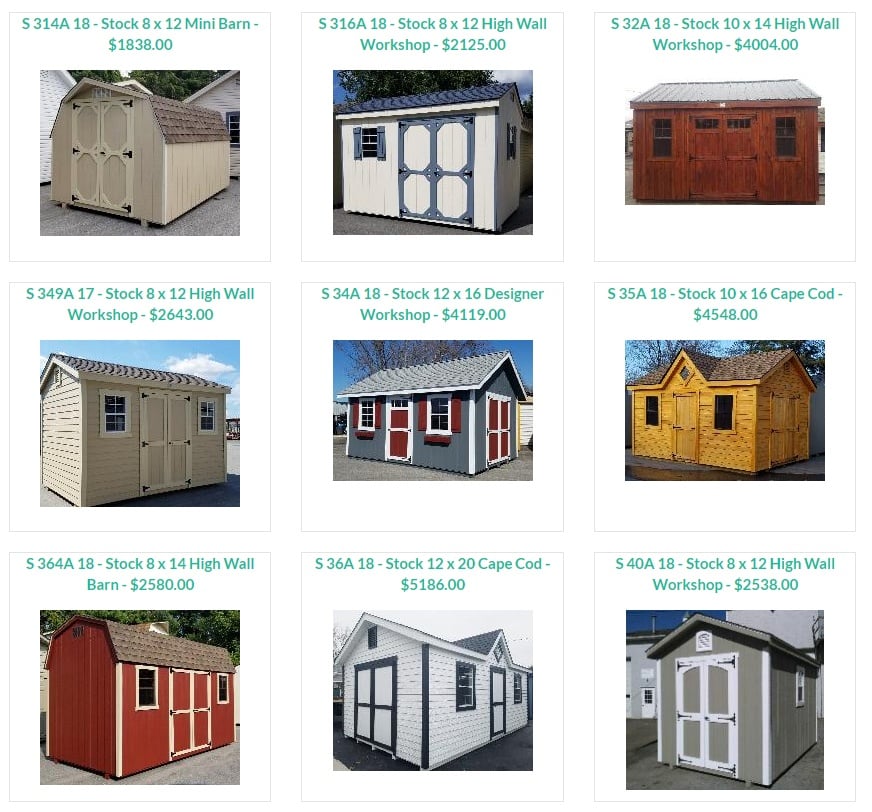 How Much Room Do You Have?
The first question you need to answer when choosing a shed size is how much space do you have to work with on your property where the shed is going. You should consider measuring the area in length, width and height to get a good idea of what size shed will fit in the space. If you're not installing a foundation for your shed then you'll need to take a look at the terrain of the area you plan to place it. Though the spot you pick doesn't necessarily have to be completely flat, the lowest corner should not be far off from the highest corner. Concrete blocks and shimmies can be used to even a shed up further thus making the floor flat even when the ground is not. We always recommend a stone foundation or concrete pad for your shed though. A foundation will increase the longevity of the shed by helping to keep water away from the edges, thus preventing the wood from rotting.
What's the Shed's Purpose?
If you know what you're going to be using the shed for then you might know exactly how much space you need. Storing two lawn mowers and a wheelbarrow is a little different then just a few garden tools. Not everyone is using their sheds for storage anymore however, more and more people are using it as a hobby space or personal retreat.
If you are using it to store lawn and garden equipment then you might need to consider some other added design features. For instance, you might need a ramp to get your lawnmower up into and out of the shed, those things are heavy. In some cases you might want to consider a loft for additional space above your head. Obviously, the more you know about what your storing in the shed the better you can plan. Will the shed you're thinking about right now be big enough five years down the road.
Delivery or Build on Premesis
Rick's Sheds carries many different sizes and varieties of pre-built sheds but we also build custom sheds on-site. One consideration you must take into account is whether or not we'll be able to deliver a pre-built shed right onto your premises. Depending on how much room you have, it may or may not be possible to get our delivery truck into that space. Though we've delivered through and around some pretty rough obstacles it may not always work depending on the terrain of the yard.
Design
As mentioned before you may need to consider the style or design of the shed you're purchasing or having built. There are many different designs of sheds to choose from whether it be a barn, a cabin, a cabana, carriage, cape cod, garage or workshop. You'll need to pay attention to the roof style as well. The pitch, grade and design of the roof could have advantages and disadvantages in the selected space. As you can see from the image below, sheds can have different roof designs which all vary in shape and square footage.

The good new is that Rick's Sheds carries many different types of sheds. Surely you'll be able to find one to fit your needs. If by chance we don't happen to have what you're looking for on our lot, then talk to us and we can work with you to build a custom shed on-site.