If you have a yard, even a a small one, you can turn it into an private, peaceful and ample outdoor space. Having an outdoor space where the family can gather allows you to take full advantage of your property and offers a special area to congregate when the weather is warm and comfortable. This gathering place can be something as simple as a few adirondack chairs around a fire pit or a space that's been converted to an outdoor living room complete with furniture, heating, lighting and space to eat. If you want to create a superior outdoor space then you have many options to make it feel as comfortable and charming as any interior space.
Creating outdoor spaces for your home
When it comes to designing an outdoor space there are many options and routes that you can go. However, no matter what you choose to do, it all starts with a plan. If you don't have any vision or ideas of what you want to do then start with the following list below to begin hashing it out.
Perhaps the first things to think about are privacy, protection and color (or theme).
Privacy. To avoid prying eyes of your neighbor you may want to add a bit of privacy around your outdoor area. Though your outside area may not contain any natural privacy barriers such as bushes, hedges or trees - planting some is always an option, but the growth of them over time is something you'll need to consider. Installing a fence around your perimeter is not only a great way to add privacy but a great way to incorporate design elements into your space. Fences come in all shapes, sizes, materials and colors and can be custom painted to match your surroundings. What's more, fencing can be used to install additional design elements such as lighting and planters.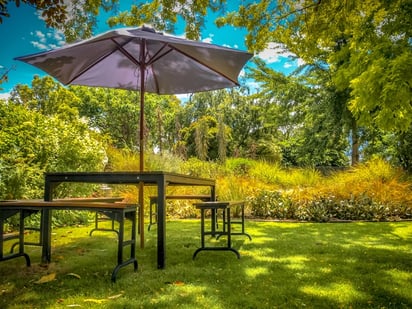 Shelter. To create even more privacy and to give some protection from the beating sun or rain you can consider a shed, pergola or gazebo. Any one of these three things is a great addition since they can all be used in different ways. A shed doesn't just have to be used to store lawnmowers and tools - they can be customized into just about anything. Have a pool? Consider getting a shed to use a pool house, changing room or even an outside bar. A more simplistic structure like a pergola will give your outdoor space a center point in which people will focus and gather all while giving them a bit more protection and privacy. Gazebos are extremely popular and it's guaranteed you will be able to find a shape and size to fit the needs of your outdoor space.
Sitting Area. Any outdoor space usually reserves room for a sitting or dining area...a main place where people can sit and chat either over a glass of wine or dinner. Depending on what type of shelter you've decided on and what other design elements you have incorporated then choosing the furniture for the sitting area could be wide open. The good news, there are so many designs and different styles of outdoor furniture to choose from that you're bound to find something that works. If it's a dining area you're interested in then consider what type of table you want. Is it going to be a wood picnic table or a stainless steel fire pit table with sling chairs? Would you prefer a square table, round table or octagon shape? You have a lot of possibilities to choose from so if you need some inspiration, then check out our line. The best way to buy a piece of furniture is knowing where it's going to be placed and how you're going to use it in the space. You can make your outdoor space as comfortable as any indoor space, complete with lighting, heating and all the comforts of an indoor space.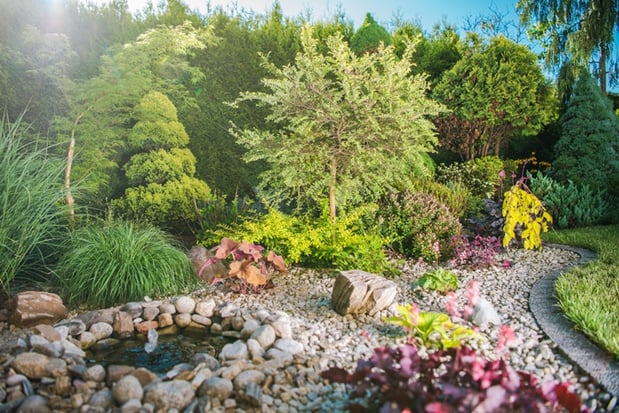 Color/theme. Many people choose to incorporate a theme into their outdoor space. A theme can be as simple as a color scheme or as complex as recreating ancient Babylon. The good news is that you may not have to do much to add color or a theme. The colors surround you in the open air that nature provides and the green of the trees and songs of the birds may be all you need for your theme. Wood elements can be stained or treated with different shades to create lighter or dark colors to match any natural surrounding. If you plant flowers or other floral plants in the area, it will add even more color, not to mention adding a beautiful bouquet of smells as well. You can choose to add a variety of decorative elements that can add touches of style and palettes. If you want to be bold, you can even paint the back of your home to complete the rest of the outdoor space. The color and theme will work in conjunction with some of the other elements you incorporate from the next section.
Design Elements: You have to think about some other things you want to put in your space and these can include planting, shrubs, fountains, small ponds, bird baths, fireplaces and grills. If you have a pool then you have a great spot to start building your outdoor space around. But there are plenty of other things that will create a central focus in your space. A fire pit or a place to make and enjoy a fire will be critical on crisp nights. A water fountain will create a tranquil sound of running water giving you a relaxing and peaceful effect. Bird baths and plants will attract happy, singing birds right into your yard. In addition to using traditional lighting, tiki torches and a campfire table can provide exceptional light sources in any space as well. Consider adding an atmosphere with wind chimes and other garden decorations.