You're thinking about adding a shed in your backyard to store your gardening equipment, lawnmower and other materials. You've looked at prebuilt sheds but nothing struck your fancy as far as the design and features. Plus, after studying your backyard, you have a few concerns about quality shed space on your property.
It's an issue many homeowners face when considering a purchase of a shed. Not every prebuilt shed will meet the needs of a family nor will every backyard meet the needs of a prebuilt shed.
The solution: a custom built shed.
Getting a custom built shed means you can have the exact shed you want built exactly where you want it.
Prebuilt sheds are limited in size because they need to be transported on roads and you can't always put them where you want because backyards come in all different shapes, sizes, dimensions and are sometimes littered with obstacles. It's highly unlikely that every yard will be a candidate for a pre-built shed where you can back a trailer up to the foundation and manuever the shed into place. Backyards don't always cooperate with shed deliveries.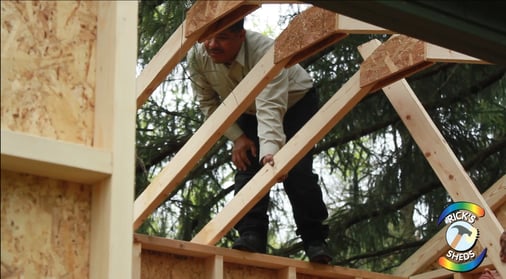 With custom built sheds, the materials, parts and pieces to construct the shed are carried onsite and then assembled. This means you can not only put it where you want, but you can have it look and function however you want.
There's a lot that can be done offsite to prepare for your custom shed build. For instance the walls of the shed can be build off site and then transported to the site for assembly. The roof trusses can all be built offsite and then assembled onsite as well. Constructing a shed this way by no means lowers the quality or the quality craftmanship of the shed but saves both time and costs to the homeowner with the added benefit of having it built to your exact specifications in the exact spot you want.
Depending on the design of the shed or structure, onsite construction could take a little as a day.
Building a Custom Shed From Rick's Sheds
Our sheds are built by our employees who do this day after day, to the highest standards and built to exact specifications.
Our design team and quality workforce will strive to provide a customized backyard building or a custom garage to your own unique taste and to fit with your one-of-a-kind landscape.
The Rick's Sheds Difference when it comes to custom built sheds
Cost Effective – we offer different price points for many of our shed models, there's no reason for any homeowner to go away unhappy.

Knowledge and Experience – Rick and his family have been building this business for over 30 years and have a hand at every single step. They know the business and the homeowner benefits.

Township Permits – Rick understands how busy homeowners are and how difficult it can be to get away from work to deal with something like building permits. Rick and his staff are happy to help homeowners secure their permits with the township as needed.
If you have more questions about custom sheds, please contact us at (610) 494- or (610) 494-SHED.
We also provide the accessories you may want for these products at reasonable prices, like cupolas and interior shelving.