Rick's Sheds goes far beyond its name; we do so much more than just sheds. Not only do we put together all manner of other small outbuilding from poolside changing stations to standalone workshops, we also make structures too small for human occupation. Rabbit hutches, chicken coops, cat shelters, and of course the ever-popular doghouse are all on the menu at Rick's Sheds.
---
A Use for Useless Scraps
Every building we make has leftovers. Some of it we sell as sawdust or as simple scrap -- but when we have pieces large enough to build a dog house or other smaller structure, we'd much prefer to use them that way. We're in the business of building shelters, and every roof we can put over a living critter's head makes us happy.
Size Matters
'But Rick,' some people say, 'My dog is an oversized Great Dane! Can you really build a dog house for that?' And I say: of course we can! We build people-sized buildings; your Great Dane doesn't need six feet of clearance. We can handle a house for him or for your teacup poodle. Heck, we can build both of them to share a common wall if you want to.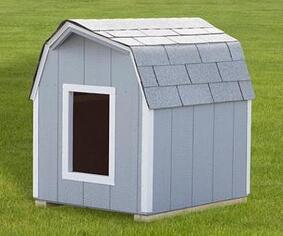 So how big is big enough? Well, dogs generally don't actually live in their doghouses -- they're just there as a shelter from the elements and as a safe place to sleep. Generally speaking, if you draw a square that's as long on either side as your dog is, and then add three inches per side, you've got the biggest doghouse you need. Any bigger and the inside space won't warm up enough in the cold, even with insulation. Any smaller and they won't be able to curl up or stretch out while they sleep. (Exception: if your dog is whelping, you'll want an extra several inches per side for the puppies.)
Safety Matters, Too
A lot of the cheap plastic doghouses you can get at Wal-Pet-Ko-Mart have some pretty significant issues, not that they'll ever share them with you. The two biggest are that they're too cold to use during the winter months, and that they're so light that they'll literally blow over in a windstorm. Rick's Dog Houses aren't like that. The same solid construction that makes our pet houses able to stand up to that Great Dane jumping onto the roof and then back off also allows them to stand up to the wind with ease.
Now we can build a spring-and-summer doghouse if you'd like, but we can also build year-round doghouses that feature insulation enough that even your little Yorkie won't shiver herself to sleep if it snows overnight. We put our insulation in a double-layer wall with solid plywood on the inside, so there's no worrying that your pooch will decide to snack on the insulation and get sick.

---
You can see that we put a lot of thought and expertise into our dog houses -- and you can be sure that we work just as hard for your other pets as well. If you have some bunnies, chickens, a cat or three, or even the occasional goat that needs a place to come in from the rain, come on down to Rick's Sheds and find out what we can build together.
---