Outdoor furniture adds a special touch to every home. Whether it is a garden set on the lawn, a swing on the porch or a rocking chair on the patio, it provides a nice casual atmosphere for relaxing with family and friends. However, there are other pieces of furniture for the outdoors that are designed to serve a more specific purpose. These include firewood storage units, potting benches, dog houses or rabbit pens.
Outdoor furniture comes in different material such as metal, plastic, and wood. These additionally come in different design options. Hence, a customer who visits a furniture store or depot may be confused about what to buy. Should he get the cheaper option or the expensive option that is more durable? Should he get the well-designed metal furniture or the sturdy wooden one? Here are a few tips that will serve as a outdoor furniture guide if you're in the market to decorate or re-decorate your outdoor space.
Portability - Outdoor furniture will have to be moved around and stored away during winter so that they do not rot with the constant moisture from the snow and rain. Therefore, while looking at options you need to consider lightweight furniture that is easy to move around. Alternatively, if you are getting furniture that will be kept in a partially covered area such as a patio where it need not be moved, portability may not be a key factor.
Durability - This is one of the key factors to consider while buying outdoor furniture. Since the furniture is going to be exposed to the elements, getting chairs and tables that withstand the constant exposure to the sun and rain is important. Alternatively, you could get durable furniture that you like but spend additionally on getting outdoor covers for them.
Style - Style is an important aspect of any kind of furniture and outdoor furniture should be no different. Get a style that goes with the overall theme of your home or outdoor space. The style may reflect what area you're putting the furniture in. For instance you might want to add some furniture around your pool area, if so maybe an aluminum set would be better than cushioned chairs. Maybe you would prefer a wicker set underneath your pergola instead of that wooden set. Make sure that you try sitting on the chairs before you buy them, as the style should not be at the cost of comfort because after all, you want to sit outdoors to relax.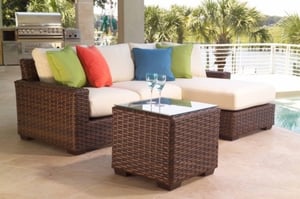 Design - along the same lines of style is the design you seek. Now that you know you want an aluminum set over a wood set or wicker chairs over adirondack chairs, the next step is to choose the colors or accessories. The color you choose to paint it or the color of the cushions and umbrellas will all have a big effect on the outcome of your outdoor space. Depending on the manufacturer or pieces of furniture, designs can also range from the contemporary to classic or simplistic to complicated.
Storage space - If your outdoor furniture needs to be stowed while it is not in use, then you need to have sufficient storage space for it in a garage or shed. If you have a space constraint then getting furniture that can be folded or collapsed for storage would be a better option.
Ricks Sheds sells products that are extremely weather resistant and maintenance free if that is what you're looking for. However, we have pre-made or custom built sheds to store your furniture as well - if you've invested the money into the furniture you'll want to make sure it lasts for many seasons to come. Quality furnishings for outdoor living are a valuable investment that beautify your outside areas. Sensible furnishings can produce a soothing place to enjoy the outdoors, and supply design elegance to your grounds, patio or terrace.
Ricks Sheds builds its outdoor furniture underneath strict quality guidelines and is manufacturers representative for the best known brands in the business like Hanamint and Pride Castelle. You could buy your outdoor furniture almost anywhere, however you'll want to select somebody that's reliable and able to give you the selection you want while providing superior customer service. Rick's is family owned and operated and you'll notice that from the friendly service as soon as you walk through the door. Whether you're looking to buy tiny furnishings or large ones, pricey or not so pricey it will not matter, as all products of ricks sheds are of optimum quality. Outdoor furniture from Ricks Sheds can be found in numerous sizes, styles, shapes and designs that will fully modify and redefine the appearance of your outdoor area.