Whether you already have a shed installed or are thinking about purchasing one, it's an investment and you want it to last a long time. You can think of your shed as a home in that it requires maintenance - and that little bit of shed maintenance can go a long way in ensuring the useful long life of your shed.
We know that your weekends are precious and caring for your shed can take some time, but a few simple maintenance actions every few years can help that storage solution last longer than stated.The lifespan of your shed can be prolonged by taking time throughout the year to look after and tend to repairs before they become serious. The fact is: if you want to keep it, you have to maintain it. Let's look at some really basic things can do that will increase the longevity of your shed.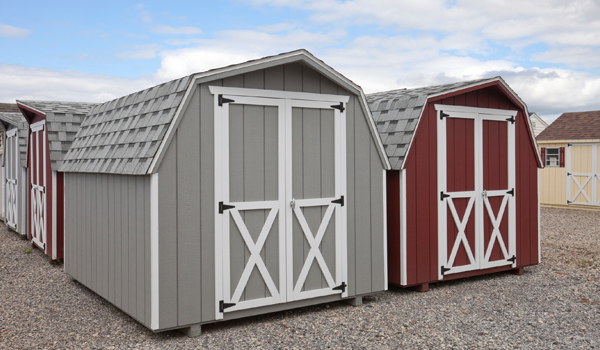 Painting
If your shed didn't come painted or stained and is covered with wood siding or trim then you'll want to paint or stain it as soon as possible. Any exposed exterior wood should be painted using a quality exterior paint. If you notice small knots, holes (nails, bees) or wood blemishes they can be filled with putty then sanded and painted as well. Depending on the climate where you live and the quality of paint you use, you may need to re-paint your shed periodically. Remember to paint all parts of the shed, top, bottom, both sides, front and back. Even if you don't see some parts of the shed you'll still want to paint it in order to protect it from the elements.
The best part about painting your shed is that you can get creative and put your own creative touch on it. Paint it whatever color you like, just be careful about not pissing off your neighbors.
Foundations
Did you know a foundation is one of the most important parts of your shed? Without a foundation to sit on your shed could rot away before its due lifetime. Moisture and the elements can do terrible things to exposed wood over time. The foundation ensures that your shed sits on a firm and level base and protected against moisture penetration.
Though the floor of your shed does not sit right on the ground having a solid, level concrete foundation keeps constant moisture at bay and is safer.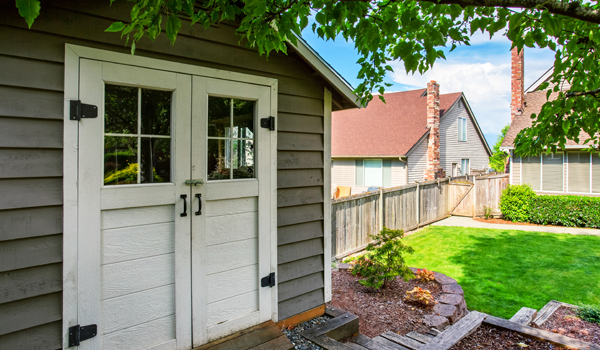 Ensure nothing is in contact with your building:
Watch out for overhanging tree limbs. Any overhanging tree limb, dead or alive that poses a threat to your shed should be cut down. This will ensure nothing will fall on the roof, smashing the shed. Any hedge growth that poses a threat to your garden building should be cut back or cut down as well.
If a tree branch falls or a hedge constantly makes contact with your building it may pierce through the roofing and felt encouraging water ingress. If you do find any damage, repair it immediately.
Don't Seal the Air Gap
The air space between the ground and the shed floor should be kept open, allowing for important air circulation under the foundation. Do not fill it in with dirt, doing so places the damp dirt in contact with the wood of the shed, resulting with the wood rotting. Also it does not allow for adequate ventilation of the floor causing the floor to rot from the bottom. The circulation underneath the shed must be maintained to insure long life of your wood foundation. If you want to skirt the shed, use a lattice or other material that will allow for proper air circulation.
Water
You always need to be careful about water penetration and your shed. Keeping water flowing away from your shed will be important as you never want any standing water on or near your shed. If you have gutters on the shed, make sure they function properly and carry the water away from the shed.
Do not let a sprinkler system or irregation system to spray directly on your shed.