Ignore the back-to-school commercials and fall promotions… summer's not over yet! If you haven't had a chance to create your perfect outdoor living area, now is the time. If you're looking to for versatile, easily maintained, and affordable furniture options to create an elegant outdoor living space, wicker furniture is the way to go. Not only is there a GREAT going on at Rick's Sheds, but outdoor wicker patio furniture is a winner for 5 reasons
1. It's Light
Need a multipurpose space? Wicker furniture will fit your needs perfectly. You can shift chairs and tables around without a hassle, clearing space for party games or a larger dining table.
Heavy storms in the forecast? No problem. Wicker is light but still sturdy. The design makes for easily movable furniture pieces but aren't easily blown away either. Wicker furniture from Rick's Sheds is
2. It's classic
Wicker isn't going out of style. It has a timeless, elegant look that you can be sure will last through the ages. Unlike some style fads, wicker has stood the test of time. In fact, it's been around since Ancient Egypt, and maybe even earlier!

(This photo is free to use or share commercially)
3.You can mix and match
Another great thing about wicker is that colors that normally clash can coexist! For example, you can lounge in the sun and nap by the pool with the summery, white Lloyd Flanders Loom Single Chaise.
In combination with the lighter wicker, you can choose a darker wicker collection to pair with it. Because you can switch out the cushions, arrange the furniture how you like, and create your own eclectic vibe, wicker furniture is perfect for mixing and matching colors and styles.
4. It's versatile
Style, function, size, shape, season… wicker furniture is about as versatile as outdoor furniture can come. Not only does Rick's Sheds have tons of options to choose from, but each piece of furniture can be used however you want on any given day.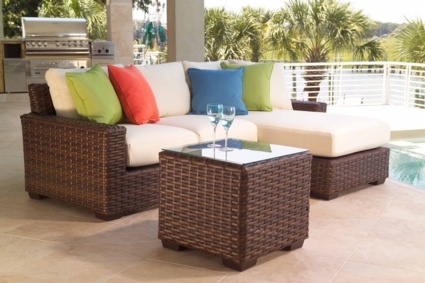 Take the Lloyd Flanders Contempo Collection for example. This chic seating collection crafted from premium vinyl has endless arrangement possibilities. Change up the chair and table positioning however you like to accompany guests or just if you're feeling like a change of scenery.
5.
It's affordable!
See deals from Rick's Sheds
Wicker furniture is on sale at Rick's Sheds as part of Rick's seasonal offerings. Don't miss out on this one-of-a-kind opportunity to finally complete your outdoor living space! Act now and you can show off your new look to neighbors at a Labor Day cookout!