As summer has come to an end, it's time for people to start transitioning into autumn. When autumn approaches change is happening all around us. The weather is getting cooler. We are changing our wardrobe. Pumpkin spice seems to dominate the smell of the local coffee shop. All signs point to the fact that fall is upon us. With all this change going on, why not change your home décor and furniture. There are plenty of options that you can use when transitioning your home to a more seasonal setting.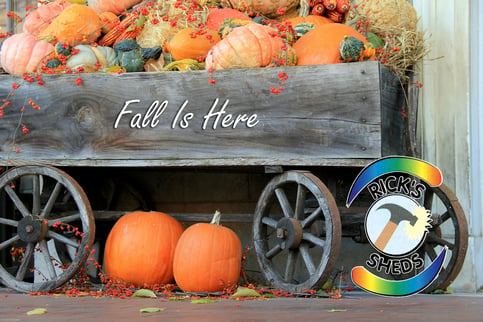 In this post we will give you some ideas of how to upgrade your décor to fit the autumn season. Hopefully this article will get you thinking about enhancing your décor, furniture, and atmosphere of your indoor and outdoor living space to fit the changing of the season. Here are some tips on making you home feel like the season.
First, we will start with the overall décor of your house. One of the easiest things that you can do to your home during this season is to switch the accents of your home from summer to fall. This means changing the colors of your blankets, pillows and other furnishing that are similar. Switch from light summer colors to oranges, browns and burgundy colors that are well known to be associated with fall. Autumn knick-knacks that symbolize fall or Halloween can also be useful to enhance your home and make it feel more like fall. Candles are also a big hit this time of year. Pumpkin, apple spice, cinnamon, are all great scents to get your home ready, and smelling like the season. You can go check out Ricks Sheds where we have a variety of fall colors for almost any accessory needed in your home.
Some other ideas that you may want to invest in are seasonal decorations/ displays. Bowls of seasonal fruit are always a hit around the fall season. Apples, pears, and gourds are all great seasonal fruits for this season. Even putting some decorative pumpkins around the house can help improve the ambiance of your home.
As the weather gets colder, you don't want it to just look like a nice cozy little home to get out of the nippy cold air. You want your home to feel cozy and inviting to all that would approach it. This could mean a variety of things that you may have to do. Some suggestion that I would start with is the curtains/ drapes. Now that summer is over it is important to have some layering of heavier fabric around your windows. This will keep the house warmer and will go better with the overall look of the house if you are indeed transferring to an autumn type of environment. Any damages around the house that are allowing air in should also be taken care of at this time as well. Winterizing your widows and sheds can help with this issue.
Now, tips for converting the outside of your house to a mach the change in season. With it getting cooler, many home owners pack up the outdoor area and just stay indoors. With the variety of items at Ricks Sheds, you won't have to pack up the backyard so quickly. First, if you are worried about the cold, stop by Rick's Sheds to get your very own fire pit. A wood burning fire pit is perfect for warming you up on those chilly autumn nights. It's great for gatherings and presents a pleasant attraction to your backyard if guest are attending. Check out our fire pits at
http://www.rickssheds.com/Category.cfm?CatID=22 .
Once you have your fire pit, it is important that you have proper seating around it for your guests. Rick's Sheds can also help you out in this area as well. We have a large selection of cast aluminum, and wicker outdoor furniture. You can hand pick what furniture goes well with your yard and fits your desired autumn look. Other things that you can do to enhance the outdoor appearance for the fall include getting some decorations that go along with the holidays around this time. Some good ideas include pumpkins, fall wreathes, bails of hey, gourds, and any Halloween decorations that you feel puts people in the autumn mood.