---
Spending time together is an increasingly difficult challenge for any modern family. With the demands of career, keeping up with your home, children's activities and schooling it's difficult to set aside time for family activity and fun. What's more, children are spending more time indoors being entertained with video games, tv shows, computers and mobile devices. But there is a way to get your children outdoors for hours of fun and exercise while remaining in the safe confines of your backyard. Add a swing set. With the addition of a swing set in your backyard you can create a center of family fun that will give for years and years.
Good Clean Fun in the Security of Your Own Backyard
Our swing sets at Ricks sheds are built with the safety of your children in mind using the highest quality products and lumber. So, if you hold family time as one of the highest priorities in your life then a swing set will align perfectly with your values. Though our pre-built swing sets are designed for your children's imagination and enjoyment, the design doesn't have to stop there. We can also customize a swing set for you by adding or removing specific features to build a fun zone that meets your families needs.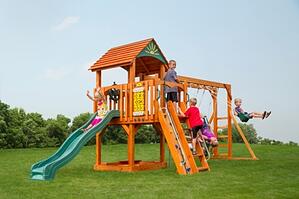 One of our most affordable and durable outdoor entertainment solutions is our wooden swing sets. We sell more of these than any other outdoor swing set because of the quality of the materials and the price point; you get a lot more for your money with a wooden set. A vinyl swing set is built from treated wood and must be covered with sleeves of vinyl, which is great for durability but adds to the cost. A wooden set is strong, sturdy, and if properly maintained, can provide years of outdoor enjoyment in your back yard.
Keeps Kids Active and Healthy
Perhaps the best reason to consider a wooden swing set is the difference it will make in the health of your children. We all know the challenges parents face these days keeping the kids away from the electronic devices that are all around us. It is far better for the kids to be outside doing something they really enjoy and burning off their energy positively. Once the swing set is set up, your kids can stay out in their back yard playground for hours at a time, doing fun activities that will keep them occupied and make them forget all about the TV and video games.
Endless Options
One of the reasons so many families opt for outdoor swing sets is the ability to customize to suit their needs. For example, you can choose the type of material you want for the roof based on your budget and how long you want your wooden swing set to last. The roof can be made of wood, vinyl or plastic depending on your preference. One nice thing about composite and wood roofing is that it stands up stronger to heavy winds. The customization options do not end with the roof, however. There are also numerous choices for accessories; such as swings, slides, hanging rope ladders, and many others.
Heavy Duty Design
Our wooden playsets are not only affordable; they are also built to last. We construct our swing sets with heavy duty 2X6 boards bolted together with stainless steel hardware for extra strength. Once set up in your back yard, these swing sets will stand strong even in the most strenuous circumstances. You can rest easy knowing your kids can play safely for hours in the convenience of your own back yard.
Environmentally Friendly Treatment
The wood used for our wooden playsets is not only heavy duty, but it is safe for the environment as well. No harmful chemicals are used in its treatment, so you can be assured that your backyard playground is 'green' friendly as well.
Coating for Long-Term Preservation
We know that wood can take a pounding over a number of years. However, just as you need to apply coating to your deck every few years, the same applies to wooden playsets. When delivered, the wooden materials contain a strong coating that will last 2-3 years. To ensure that your outdoor playset will outlast your kids' childhood, it is recommended that you apply a new coat every couple of years. The maintenance applications can be applied by us or you can choose to do them yourself.
---