There is a growing trend across the US - people are no longer using sheds for just storage of lawn and garden equipment. Oh no, nowadays people are transforming sheds into completely different creations other than just using it for storage. In an earlier post we talked about "he sheds" and "she sheds" which are sheds that are being used for backyard getaways for him or her.
He sheds and she sheds are great ideas. But as a parent, banishing your own-self to the backyard may not be what you envisioned when you're ready for some alone time. Since you are the one paying the mortgage, wouldn't it be nice to have the house to yourself and send the kids out to play in the backyard instead of yourself.
If you're a parent then you remember when you were young and how you played outside for hours at a time - we didn't have the internet, game systems or handheld devices - we were left to our imaginations. It's a different world today and if you need a way to keep your kids entertained while outside or develop their imagination, swings and play sets will do wonders for the family. What kid wouldn't enjoy their own place to unwind, be creative, be themselves and be magically imaginative. A swing set or playhouse will provide a safe and entertaining place for your kids (and neighborhood kids alike) to play.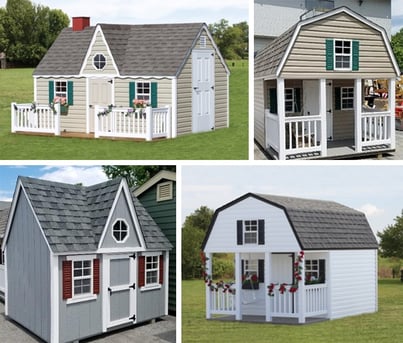 Kids are so lucky nowadays in that playhouses, swings and play sets come in so many varieties, options and shapes. Rick's sheds carries many designs and different types of play houses including victorian playhouses, cape cod playhouses, clubhouse playhouses and cabin style playhouses. The amazing thing about each one of these playhouses is that they can be decorated and designed however you like once delivered on your property. That means you and your kids can be involved together in a project whether it be decorating, accessorizing or painting the playhouse.
When it comes to swing sets and playsets the kids get even luckier as there are almost endless options to choose from. What kid wouldn't enjoy having a swing set, sandbox, sliding board and fort all in one. Hours of fun and adventures will be had all while in a safe environment, your backyard. Playsets can start at the very simple design of just swings or you scale up and give your kid many options with things like a rock wall, double slides, a bridge, a tire swing and many more accessories. To give you a better idea of what's possible for a playset take a look at Ricks Sheds vast inventory and selection of play sets.
As a parent, you will do anything for your kids. Why not give them the best opportunity to fuel their own imagination and keep them safe with a playset or playhouse in your backyard.