Redefine your outdoor space
The cold days of winter make you appreciate the return of spring and summer every year. When the spring finally rolls around after a long winter you get a sense of rejuvenation and freedom. There's no better place to experience and enjoy these feelings and weather than your own backyard. If your outdoor property space isn't all what it could be though, it might be time to upgrade to your backyard space with a few simple additions to take advantage of the warmer seasons. Below are some suggestions to reinvent and upgrade your backyard space and turn it into the space you've always dreamed of.
Landscape or hardscape: The most obvious change you can make is with the landscape or hardscape of your yard. Depending on what kind of yard you have such as slope, size and space, things could vary greatly. Hardscaping your yard with boulders or rocks might be something to consider if you want to go big but some simple landscaping with plants and flowers can have just as dramatic of effect and feel. You can use blooming plants and flowers in the spring and summer time but think about evergreen (coniferous) plants if your looking for some green all year.
Arbors: Nothing catches the eye like an arbor. An arbor is a delightful accent that hardly goes unnoticed by anyone. Arbors can be used anywhere in a yard, front or back and can be used in many different ways. Think about growing vines over the arbor or adding flowers around the base for a whole different look.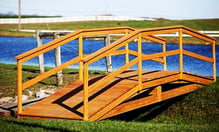 Bridges: Rick's sheds has pre-built bridges (we also custom build) that can accent any backyard. Though you may not have a creek or stream running through your property, you can still use a bridge as an accent in many different ways. However, if you do happen to have flowing water through your property then a bridge meets both form and function. Besides using a bridge to span water, they can also be used to bridge the gab between or over flower beds and even help with walking down an incline or hill.
Pergolas: Pergolas meet both form and function when it comes to sun protection and entertainment value. A pergola is the center point of your yard and they come in many different sizes and shapes. We have pre-designed pergolas at Rick's Sheds or you can come to us if you have your own design. Pergolas can be made to blend in with your property or stand out depending on what materials you use to build it. At Rick's Sheds, we have a huge selection of Pergolas to choose from, you can check it out here.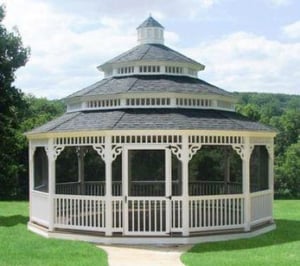 Gazebos: Another option to create a center point around your yard is a gazebo. Gazebos come in all shapes and sizes and are cheaper than building a deck or screened in porch. Whether square or octagon shape, single roof or multi-tiered roof, you have many different choices when it comes to your gazebo. Gazebos can be pre-built and delivered or built on-site. You can see all the different selections available at Rick's Sheds here.
Fire pits: sitting beside a fire or fire pit is a great way to extend your backyard use into the evening hours. Fire pits are safe and can be designed around the rest of your outdoor space. What's more you can choose to burn wood or gas in your fire pit. Click here to see one of our most popular fire pits.
Outdoor furniture: If you have a pergola, gazebo, patio or fire pit then you're probably going to need somewhere to sit. Luckily Rick's Sheds has you covered with a huge selection of outdoor furniture. We only carry high quality brands that can meet your style an budget. We offer polymer, wicker, wood and cast aluminum furniture. We also carry accessories such umbrellas, pillows and cushions.
Let's not forget one of the most important additions to your backyard space - a shed. Contrary to what you might think, sheds come in many different sizes, shapes, designs and prices. Sheds aren't just used for storage places anymore either. Our customers have turned their sheds into some pretty unique things including pool cabanas, bars and design studios. Visit us onsite to see our vast collection of sheds.
.